Saint Julian Press Poet
Melissa Studdard - Writer - Poet - English Professor - Editor
WE ARE THE UNIVERSE
--inspired by the Eric Anfinson painting,
The Bravest Woman
Watching your mouth as you eat I think
perhaps an apple is the universe and your body
is an orchard full of trees. I've seen the way your leaves
cling to the ground in fall, and I noticed then
that your voice sounded soft, like feathered, drifting things
coming finally to rest. Note:
I was the core in your pink flesh. You
were hungry birds
and foxes walking though the miles of me.
You climbed, dug your nails in my bark, yanked
something loose. Don't tell me what it is.
Just keep it close.
Because I planted these rows
and rows of myself for you--
so I could lick the juice from your lips,
so I could remember
how round and hot
the promise of seed. If I could find
that orchard right now, I'd run all through the rows
of you. I'd stand in the center and twirl
until, dizzy, I fell. I'd climb high and shake
until the only thing left in you was longing,
and you'd write a poem for me. You'd say:
Your mouth is the universe. Your desire
is an orchard full of trees.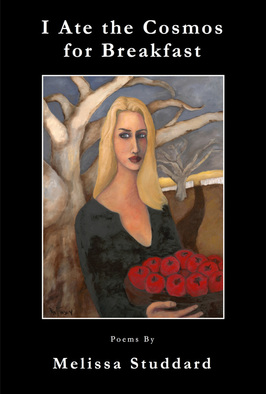 I Ate the Cosmos for Breakfast
​
by Melissa Studdard
Poems from Melissa Studdard's first poetry collection published by Saint Julian Press.
Press Release
Cover Art: The Bravest Woman Size, 40 x 30
Oil On Canvas by Eric Anfinson. Used by gracious permission of the artist.
www .ericanfinson.com
---