Guest Author
Cindy Rinne - Artist and Poet

---
Song
---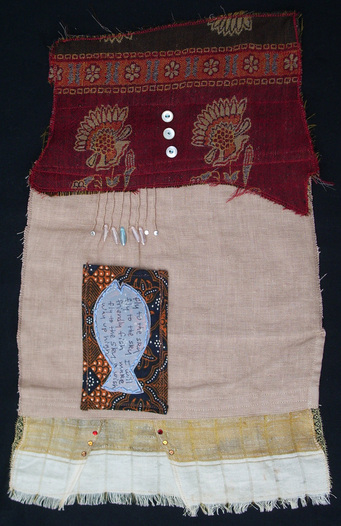 ---
Song
Behind him, across vast distances of space and time, from the place he had left, he thought he heard music too. But perhaps it was only an echo. - Lois Lowry
Ino raised the ghost fish
stitchery up to the sky.
An offering to Aphrodite.
Little Tina carried the ghost fish to her
plastic swimming pool. She waved
as he arose like vapor. She clapped
and sang:
fly to the sky
fly to the sky
friendly fish
fly to the sky
way up high
I will make a wish
Sarah did not look up to see the ghost
fish leaving the atmosphere. She asked
Tina what she wished for? My sister
to come back home.
I am close to finding the rope and giving
mom the apple she lost when she became
a water sign.
Cindy Rinne
Copyright 2013
---
Cindy Rinne creates art and writes in San Bernardino, CA. Cindy won an Honorable Mention in The Rattling Wall Poetry Contest. Cindy is a Guest Author for Saint Julian Press. She is a founding member of PoetrIE, an Inland Empire based literary community. Her work appeared or is forthcoming in
A Narrow Fellow, shuf poetry, Poetry Quarterly, The Prose-Poem Project, The Wild Lemon Project Literary Journal, Welter Literary Magazine, The Sand Canyon Review, Inlandia, A Literary Journal, Lili Literary Journal, Tin Cannon Literary Review,
and
Phantom Seed.
She has recently completed a new poetry manuscript,
The Feather
Ladder. Cindy is collaborating on two chapbooks and working on her second manuscript.
www.fiberverse.com
.
LINKS
www.inlandiajournal.org
, Vol. III, Issue I – Winter 2013, Poetry: Chalking (audio version too)
www.yvonne-brown.com
, blog, National Poetry Month Celebration, Featured on 4/11/13