Saint Julian Press
Terry Lucas ~ Poet
---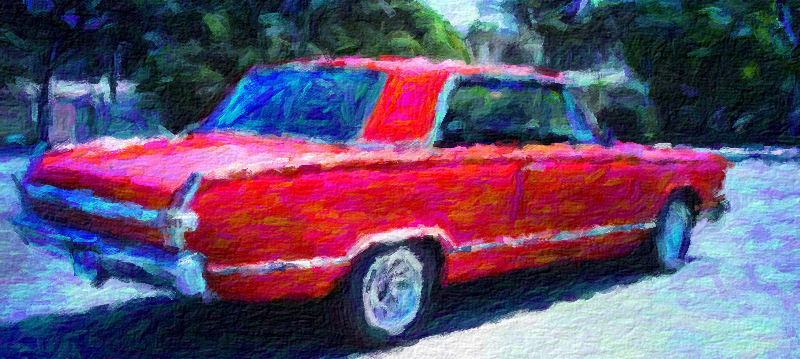 ​Recorded Live on June 24, 2016 ~ Saint Julian Press Public Poetry Event ~ Performed by Doug Williams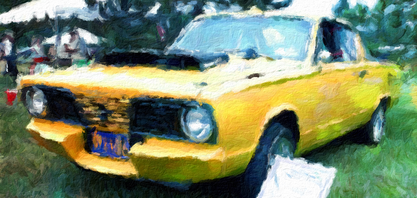 ---
Psalm '66

O, '66 Plymouth Valiant! In you will I put my trust.

Your chromed, Barracuda hood ornament leads me.

Your tuck 'n roll bucket seats comfort me.

Your 400-horsepower Hemi engine will save me

from being shamed by a Biscayne dragging Main Street.

Though I double-clutch down Red Mountain, I will not fear,

for your disc brakes and your Hurst shifter are with me.

Your tubular suspension protects me. Your roll bar

watches over me—a halo of Chrome-Moly black steel.

Your aluminum wheels and posi-traction rear end

will carry me from the Midwest to New Mexico.

Even though I cross-country to San Francisco,

I have no need for a motor hotel. In truck stop

parking lots your double bass exhaust is hushed,

while a waitress prepares a table before me of pork chops,

buttered toast, hash browns, and fried eggs sunny side up.

You anoint my hands with grease. The sweet smell

of gasoline will follow me all the days of my life,

and I will dwell in the pleasures of your back seat forever.

Summer of '63

Camping halfway up Abajo Mountain,

one ear pressed to my cold air mattress, one

to a Delmonico, six-transistor

radio: fifty thousand watts of sound

––K-O-M-A, Oklahoma City––

Johnny Dark interrupts the Rhythm

of the Rain, telling me just what a fool

I've been with the announcement: "Marilyn

found dead in bed at home." At twelve years old,

how could I have known about the pleasure

and the pain born conjoined in the body

Hollywood? Till death do them part. Outside

my bivouac tent, black air huddles closer

to nodding fire, hushes its wheezing voice

as earth's shadow leans against canvas skin

pulled tight across thin ribs with ropes and stakes,

squeezing out the light like white noise filtered

from a song, waves beamed across a nation:

The only girl I cared about has gone

away—along with her she took my heart.

"Psalm '66" was previously published in Clementine Unbound and "Summer of '63" was previously published in Diesel, The Anthology of the San Gabriel Valley Literary Festival.
---