Press Release - for February 18, 2016 - Saint Julian Press
---
Saint Julian Press is proud to presents a new paperback edition of
Wounded Bud
by Fred La Motte.
---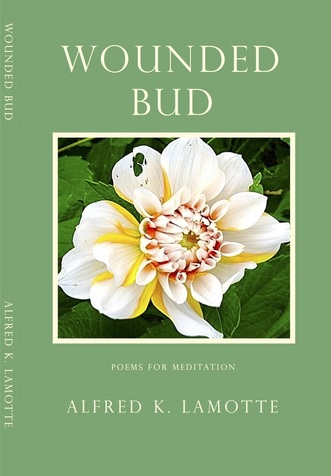 The poet Shelley wrote: "Every original language near to its source is the chaos of a cyclic poem… A poet participates in the eternal, the infinite, and the one." Ancient cultures recognized that the mystery of creation is the mystery of "original language." So John's Gospel declares, "In the beginning was the Word." And India's Mandukya Upanishad says, "All that ever was, is, or will be is created through the syllable Om."
The poems in this volume reflect this ancient science of mantra. "Man" is the Sanskrit root of the English "mind" and "tra" of our suffix "tron," meaning vehicle. A mantra is a vehicle to carry the mind back to the source of creation, divine silence. Here in the heart, love awakens. Fred LaMotte conceives language in this ancient tradition, where poetry is a means of taking us home, taking us Om.
Many of these poems also reflect the tradition of the mystical marriage. Poets of Eastern and Western religions understood the intimate play of soul and spirit as the whisperings of Lover and Beloved. They created a common poetic iconography, a love-language both sensuous and mystical, which we find in Sufi poets like Hafiz, Hindu poets like Mirabai, the Biblical Song of Songs, the Medieval troubadours, and the parables of Jesus. Mystical poetry can dissolve religious conflict.
Fred LaMotte offers us a revival of atavistic poetics: poetry as meditation, poetry as devotion, or Bhakti, poetry as love-song in the Bridal Chamber of the heart. "In the lover's heart is a lute which plays the melody of longing." ~Rumi
Cover photograph is a dahlia from the Pea Patch Community Garden in Seattle, Washington, courtesy of Abigail Fell LaMotte.
Available - November 28, 2013
---
---
"This book is a tavern. Enter it from any direction and drink. Each cup is a treasure, hand-crafted, unique, yet all contain the wine of astonishment and one full jigger of God's freshest glory. O, so delicious! I drank too many and reeled off my barstool into the evening. There I saw Whitman sail past the moon, old Khayyam was singing, and the Girl whom I'm planning on marrying whispered: Lo, these pages express what can never be seen, in words that describe what can never be said." ~Peter Hayes, Author of The Supreme Adventure and My Lady of the Bog: An Archeo-Forensic Mystery

"Fred LaMotte's poems come from the depth of silence. They are nourishment for the starving spirit, and spring water for the thirsty. They encourage the reader to leave worry and fear behind and return to the origin, the root of all roots. This is the kind of reminder we need in this troubled world that has forgotten how to smile." ~Guthema Roba, poet and author of Please Come Home

"A modern Rumi? Fred's poetry is rich with love, sensual and timeless, an exploration of what comes out of the stillness and silence of awakening. I have not read a book of contemporary poetry this wise and delightful in decades. As I do with the poetry of the masters, I will return to Fred's poetry again and again. It's a bit like reading Kabir for the first time but in your own language, and your own time. You read it and you know: this is a man who understands poetry, who understands spirit, who understands you." ~George Kinder, Buddhist meditation teacher, author of Transforming Suffering into Wisdom

"Discovering Fred LaMotte's poetry has been a true gift to me. His poems are beautifully-written portals to a high consciousness and, like all great poetry, expand the reader." ~Donna Baier Stein, Author of Sympathetic People and publisher of Tiferet Journal

"Fred LaMotte's poems are passionate and rich, yet unusually spare, sewn together with fine mystical thread into beautiful creatures that breathe and live inside us long after we have met them. Reading his poetry is like drowning in nectar and seeing through liquid gold: we are immersed in the sweet taste of Truth." ~Aile Shebar, founder of Writing from the Heart™, and One Heart Productions.

"Fred LaMotte's poetry is a living bridge between the boundless infinite and its expression: timeless vibration in words. Like a Rumi or Hafez, Fred has the rare and illumined skill of using words to unlock an inner door to the Innate Divine Presence. His poems are not just language, but vibrational medicine that help us remember home. His humor, sincerity, depth, compassion, and challenge are threads that weave a tapestry of transformational writing. We don't read the words of Fred LaMotte, we breathe them in as prayer, and let them melt our hearts open." ~Dr. Matt Lyon, Founder of Network Wellness Center and author of Radical Healing.
---
Back Cover & Bio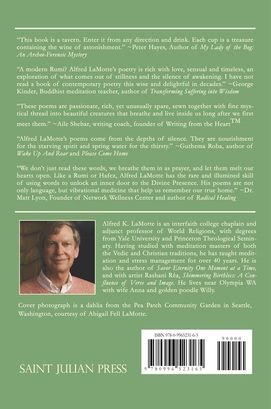 Fred LaMotte is an interfaith chaplain and teacher of world religions who has served as chaplain, teacher, and community service director in private schools and public colleges. He has taught meditation and stress management for over forty years, having studied personally with masters of India's Shankaracharya tradition. He also studied Gregorian chant and Christian mystical prayer while in residence at Trappist and Benedictine monasteries in Europe and America.

Fred has degrees in English literature from Yale University, and in Biblical Studies from Princeton Theological Seminary. He also volunteers as a GI rights counselor, offering stress management courses to veterans making the transition from war to peace.

Fred is a Quaker, and has devoted his entire career to dialogue between the world's religions. Recently, he has started a project to celebrate mystical poetry in both English and Arabic, uniting the Christian and Muslim worlds in the language of love. Lebanese poet and Art of Living teacher, Dana Chamseddine, has translated several of his poems into Arabic.

Fred uses poetry circles to gather seekers from all religions and walks of life, inviting them to heart-centered conversation, followed by deep meditation. He gladly offers his service to your church or contemplative community.

Fred lives with his wife Anna near Seattle WA. He has two lovely daughters and a golden free-range organic poodle named Willy.

"The time has come to turn your heart into a temple of fire!" ~ Rumi
---
---
---