Saint Julian Press Poet ~ Author
Melissa Studdard - Writer - Poet - English Professor - Editor
---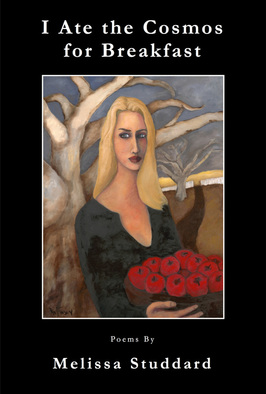 I Ate the Cosmos for Breakfast
​
by Melissa Studdard
Poems from Melissa Studdard's first poetry collection published by Saint Julian Press.
Press Release
Cover Art: The Bravest Woman Size, 40 x 30
Oil On Canvas by Eric Anfinson. Used by gracious permission of the artist.
www .ericanfinson.com
---
---
Someday I'll meet you again,
and we'll sleep like the eyes of hurricanes,
lidless in our trek to taste each other's tongues
as they throw dirt over my face, into the quivers
of my throat. I've been meaning to say a little
something each night, to light a candle
in the doorframe, set fire
to the empty church: For you, I'd drive
the people back into each other's arms,
where they could see, finally, your
softness again. I meant to say I knew you
were unhoused, the original nomad. There were
none living there among the pews. What was left
was pressed among the pages of psalmody.
And this is no new thing.
Another costume off: My golden hair.
My blue-green eyes.
Shed beneath the dirt.
I meant to say, how are you? And, also,
this is not about me. Because there are tigers
scratching at the swirling wind, and there are monsters
banging on the shutter doors. Because I've had no time
to think or eat properly or rest.
It was all just a blind sneeze in the wind.
Let me know everything about you, please.
I'll go back. Do it right this time.
I'll be a dragonfly, a pebble, an earthworm, a flea.
I ATE THE COSMOS FOR BREAKFAST
--after Thich Nhat Hanh
It looked like a pancake,
but it was creation flattened out--
the fist of God on a head of wheat,
milk, the unborn child of an unsuspecting
chicken—all beaten to batter
and drizzled into a pan.
I brewed some tea and closed my eyes
while I ate the sun, the air, the rain,
photosynthesis on a plate.
I ate the time it took that chicken
to bear and lay her egg
and the energy a cow takes
to lactate a cup of milk.
I thought of the farmers, the truck drivers,
the grocers, the people
who made the bag that stored the wheat,
and my labor over the stove seemed short,
and the pancake tasted good,
and I was thankful.
--inspired by the Eric Anfinson painting,
The Bravest Woman
Watching your mouth as you eat I think
perhaps an apple is the universe and your body
is an orchard full of trees. I've seen the way your leaves
cling to the ground in fall, and I noticed then
that your voice sounded soft, like feathered, drifting things
coming finally to rest. Note:
I was the core in your pink flesh. You
were hungry birds
and foxes walking though the miles of me.
You climbed, dug your nails in my bark, yanked
something loose. Don't tell me what it is.
Just keep it close.
Because I planted these rows
and rows of myself for you--
so I could lick the juice from your lips,
so I could remember
how round and hot
the promise of seed. If I could find
that orchard right now, I'd run all through the rows
of you. I'd stand in the center and twirl
until, dizzy, I fell. I'd climb high and shake
until the only thing left in you was longing,
and you'd write a poem for me. You'd say:
Your mouth is the universe. Your desire
is an orchard full of trees.
The language of your thighs--
decapitated matches
still burning, decapitated verbs
spun loose, your body a woodshed
filled with nouns: goosedimple, cigarette
papers, stack of books in a corner
covered with web, ax with a broken handle.
I grab you there,
make something new, fire.
Make something new,
the wheel, make Twinkies,
a microwave—your colloquial
unfolding. I think you on my lips,
the galactic vocabulary of your kisses.
Make poems of your toes, make novellas
of how light visits your iris. Translate you
into me, transcribe the files—the softest part.
What you told me
is true: In passion, the linguist
goes silent. New galaxies
swarm like gnats,
spin on the startled tongue.
---
---
---
Purchase Books from Amazon
---
---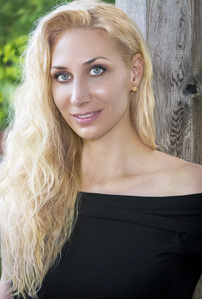 Melissa Stud­dard's
books include her new collection of poems
I Ate the Cosmos for Breakfast
, the best­selling novel
Six Weeks to Yehi­dah,
its companion journal,
My Yehidah,
and the interview collection
The Tiferet Talk Interviews
. Since its August 2011 release,
Six Weeks to Yehidah
has been the recipient of many accolades, including the Forward National Literature Award, the Pinnacle Book Achievement Award and
January Magazine's
best children's books. It was also named a finalist for the National Indie Excellence Awards and the Readers Favorite Awards. As well, her poetry, fiction, essays, reviews, and arti­cles have appeared in numer­ous magazines, jour­nals, and antholo­gies. Melissa cur­rently serves as a Reviewer-at-Large for
The National Poetry Review
, an editorial advisor for
The Criterion
, and an edi­tor for
Tiferet Journal,
where she hosts the journal's radio interview program,
Tiferet Talk
. Melissa received her MFA from Sarah Lawrence College and is a professor for the Lone Star College System and a teaching artist for The Rooster Moans Poetry Cooperative.
www.melissastuddard.com
Author of:
I Ate the Cosmos for Breakfast - Six Weeks to Yehidah - My Yehidah -
The Tiferet Talk Interviews
Author photo by
Darren Trentacosta
.
Post Production: Eve Harlowe
---
---