Guest Author
Cindy Rinne - Author and Poet

---
Germinate
---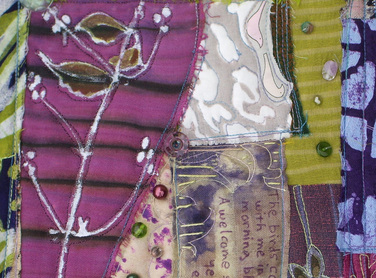 Germinate
You descended,
breath inspires earth –
rough surface void of growth.
throat parched
smell moist vapors
My desperate fingers claw the ground.
Interior roots vibrate
anchor as stalks struggle blind.
Your hands
guide the seed. Breakthrough –
sprout forth
sprout forth
whisper to the sky.
Cindy Rinne
Copyright 2012
---
Cindy Rinne
creates art and writes in San Bernardino, CA. Cindy won an Honorable Mention in The Rattling Wall Poetry Contest. She is a founding member of PoetrIE, an Inland Empire based literary community. Her work appeared or is forthcoming in Poetry Quarterly, Welter Literary Magazine, The Sand Canyon Review, Inlandia, A Literary Journal, Lili Literary Journal, The Halfpenny Marvel, and Phantom Seed. Cindy is collaborating on two chapbooks.
www.fiberverse.com
.