Guest Poets & Artist
Gayle J. Greenlea - Peter Shefler - Motohiko Odani - Where three artists compliment each other's work.

---
Will You Be My Playground & And You Alone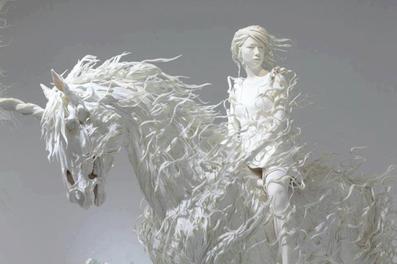 ---
Will you be my playground?
by Gayle J. Greenlea
Will you be my playground?
I'll drag my fingers softly through your sand
plant kisses in your hair like sunflowers
shaping mud pies with my hands
I'll run across your surfaces, my hair flying
and swing wildly into your sky
but most of all, I will hold you
gathering your blades of grass
small stones and memories
dreams of sailboats riding the puddles to far lands
and you and I will travel together
to the place where imagination flies in the face
of the sun.
And You Alone
by Peter Shefler
And you alone, astride
this magic unknown
one-horned horse, break it
wholly out of the sea-foam streaming - you
hold fast its mane, making soft fire
as your raiment - dreaming
right in the most daring gaze,
and cried clear as a call untethered,
sung so sweetly in the brightest dawn.
And you alone send us this
your most tender care,
and draw us toward your tempting wayward
wandering ways - still
we know of no other
who can share so well what you see -
what you cast before us in your crystal glance,
gleaming, we only know
that slender steadfast truth of you,
pulled lightly out of all
your weathered airs -
swept skyward
in your forever feathered dance
and never
into any darkness gone.
Poems by Gayle J. Greenlea & Peter Shefler
Copyright 2012
---
Gayle J. Greenlea
began writing poetry at age eight, inspired by a love of trees which has remained a central theme throughout her life. Born in Fort Worth, Texas, she now resides in Sydney, Australia where she works as a professional Counselour and Spiritual Care Practitioner in the health system.
A peace and justice advocate for more than three decades, Gayle has worked to further multicultural and interfaith collaboration, provide care and support in the gay community, promote prevention of violence and sexual abuse and ameliorate healing for survivors. She holds an MDiv in theological studies from
Trinity Lutheran Seminary
in Columbus Ohio and is recipient of the Anna Seidler Award for Systematic Theology, 1988.
One of her poems was commissioned for the
Fair-Well to Violence
event in San Antonio, Texas in 1995, and she has written liturgy and presided as Celebrant for gatherings of the National Association of Mental Illness and the
National Hispanic Ministries Conference
for the
Evangelical Lutheran Church in America
. She has worked as both a print and broadcast journalist, Press Secretary for the Democratic Party and Get Out the Vote in Texas, and co-authored a paper on
Spirituality and Health
, published in the
Australian Health Review
, March 2010. Her poem, "
Wonderland
," received the PROD award from Australian Poetry in 2011.
In addition to poetry, Gayle is writing a novel, sings and plays guitar and dabbles in photography, art, quantum physics, string theory, and cosmology. She has a passion for theatre, nature, Space, cats, coffee, chocolate, cooking, Spanish language and culture, human rights and the dignity of all creatures.
_________________________________________________________________________________________________________________________________
Peter Shefler
was born in 1950 and raised in a remote rural area of Western Pennsylvania filled with the wonders of nature, and nurtured by a family of visual artists, Peter Shefler has been writing poetry since the age of twelve. He began a study of ancient mythologies and the creative process shortly thereafter and finished his formal education in English literature and poetry at Reed College in Portland Oregon. Over the ensuing decades he mastered the practice of a number of the realms of the visual arts, finally specializing in photography, but always came back to poetry for his deepest expressions of a sometimes devastating and sometimes ecstatic but always richly emotional continuum of personal experiences and observations.
Always seeking to maintain a deep connection to the mystery of the natural world and the spiritual aspects involved in the creation of art, Peter often combines his poetry with photographic images — the poem sometimes inspiring the creation of the photograph, and the photograph often inspiring the mood of the poem. He is currently working on A Book of Colors, listing several thousand historical color names interspersed with photographs of the natural world highlighting those colors and a compilation of poetry and other literature that contains the names of those colors.
Photography:
http://www.facebook.com/media/albums/?id=100000571690647
Poetry & Other Notes:
http://www.facebook.com/profile.php?id=100000571690647&sk=notes
_________________________________________________________________________________________________________________________________
Motohiko Odani
is a Japanese artist and sculpturist.. Here are several internet links to is work and the galleries he's shown in recently.
Born 1972 in Kyoto. BFA in sculpture and MFA from Tokyo National University of Fine Arts and Music. Best known for his visions of the future premised on "mutation" and "transformation" of the body in sculpture, film and photography.
1972 - Kyoto Prefecture, born in Kyoto.
1995 - Graduated from Tokyo National University of Fine Arts and Music sculpture.
1997 - Master's degree graduates majoring in sculpture, Graduate School of Tokyo National University of Fine Arts and Music, Graduate School of Art.
Interview:
http://www.art-it.jp/e_interview05.php
http://www.phantom-limb.com/gallery/en_index5.html
http://designcove.blogspot.com.au/2011/03/sculptures-by-odani-motohiko.html
Image copyright work has been published in this site, content, has been attributed to the artist.
Taking advantage of this secondary Unauthorized reproduction, duplication, and sale is strictly prohibited.
Artwork used under fair use for educational purpose of the humanities and the arts.