Saint Julian Press Poet
---
Donna McKenzie ~ Poetry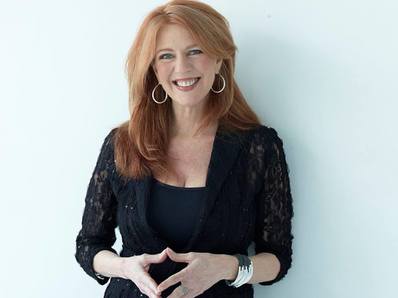 Donna McKenzie is a Houston based voice talent, speaker, radio personality and creative alchemist with a passion for food, music and poetry.

This is one of her first poems to appear on the pages of the Saint Julian Press web site.
---
---
---
In a Tumbleweed Storm

​by Donna McKenzie
---
In a tumbleweed storm,
While rocks and gravel
Flung by dust devils
Smashed car windows,
I was born.

I saw the unattainable rabbit on a stick
Leading hungry greyhounds
On their starved futile race,
Even as a child,
I knew.

I have seen the praying mantes
In my grandmother's mint forest
Reveal themselves,
Devouring their mates
In their ritual.

And the inside of darkness,
Yes, that too.

Glistening wings have carried me
From shore, to shore, to shore.
Pillows of pink sand,
Volcanic black crushed diamonds,
Golden brown sugar, and sand of bones
Raising their mermaids.

So carefully, with heart racing
I walked the cooled, razor surface of the lava flow.
The bones of the burial cave,
Skulls and pots of clay
Breathing inside the artery of earth birth,
While flowers swayed above.

I, too, have danced
Softly, wildly, completely,
And with babies, wizards, cats
And one particularly majestic gas lamppost
Under the moon.

And with the moon,
Yes, that too.

Now there is a new shore,
Wave after wave has brought me here.
Strewn with hope, soft with compassion
Still the familiar piles of notes, laundry and dishes,
Those too.

But now,
My own mint garden, and the Monarchs,
Rosemary from my rib cage, basil from my fingertips.
My grandmother used to say, the mint
Sprang from her freshly washed hair
Dripping in the sun.

I have her eyes, my mother says,
And my father's bones
A pair of wings hangs in the hallway.
And mermaids, those too,
And you, in the waves,
In the moon.

---
---
A season of you
Stirred into bloom
On silver strings landing softly
One by one, and I stood still
Quietly astonished.

And the world resumed
And then the first scented drops fell
Gentle as breath

Upon my open palm
Becoming what I knew
Opening the first delicate petal
In the season of you.

Walking into the sunset, I was the sky
Aflame, wordless, awaiting the stars.
Your eyes are the color of the sky,

filled with light and shadows
storms and their heavy love, and I know
when I have been struck,
Quietly astonished.

And the world resumes
becoming your kiss.
At the feet of a great silver mountain
Shimmering

The petals breath in
The season of you.

There are worlds, and this is one,
Contained in a very moment, all of this at once
Becoming one

Softly, as water.
Nothing is softer to the touch
Or more yielding than water

Yet who can withstand the raging flood?

And the sky is streaked with silver petals
And the mountain kneels
And together they fall into the deep sea

Quietly astonished.
And the world resumes
In the season of you.

​

---
Copyright 2016 ~ Donna McKenzie